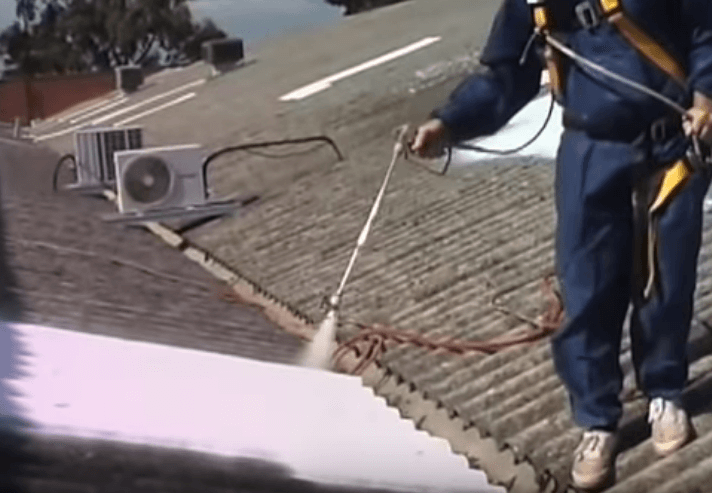 How Asbestos Encapsulation Leaves ACMs Safely In Place Undisturbed
To remove or encapsulate?  It's a decision that asbestos experienced surveys need to make whenever asbestos containing materials (ACMs) are found in a premises. The process requires a rigorous assessment and forensic analysis to determine the extent of the health risk involved.
If asbestos encapsulation is decided, then ACMs will be left in place and often treated with a flexible sealant to form a protective outer layer and prevent any asbestos fibre particles from escaping into the surrounding environment. But there are also different methods of protective sealing that can be applied.
Property owners may simply opt for asbestos removals, and avoid the obligations of asbestos management, potential future exposure risks and any impact on the property's value. However, the condition of the asbestos is a determining factor, particularly if friable (fragile and disintegrating).
Asbestos encapsulation or asbestos removals?
Other key considerations involved in whether ACMs should be removed or left in place, include:
Any immediate, significant health risk to building occupants, employees and visitors based upon the likelihood of inhaling any airborne fibre particles.
A cost comparison of material repairs and treatment versus the removal process which will require careful assessment of the quantity of ACMs and structural damage.
An assessment of how a necessary application can successfully protect ACMs from further disturbance by physical protection and/or sealing of friable surfaces.
Whether the presence of ACMs is likely to prevent access to essential parts or services based upon frequency of necessary access and importance of concealed parts or services.
Likelihood of ACMs to be disturbed by redecoration, refurbishment or alterations and possible concealment of vital services.
Determining if ACMs have reached or are nearing the end of useful life, plus the associated or concealed, non-asbestos materials that will need to be disturbed for the removal of asbestos materials.
Type of asbestos encapsulation by ACM condition
If a decision is reached that ACMs are to be left in place there are different accepted methods of encapsulation which can be used according to material condition and physical location, such as:
Adhesion to surface / substrate

Resistance to temperature

Impact / weatherproof resistance

Fire resistance or non-combustibility
The decided method of encapsulation, includes:
Enclosure by appropriate metal or wood sheeting.

Application of cement, mortar or similar impervious coatings.

Application of specialist proprietary flexible/semi-flexible products, e.g. high build elastomeric coating, penetrating encapsulants or water based epoxy resins.

Application of PVA emulsion or bituminous coating on AIB (asbestos insulating board) or an alkali-resistant paint or bituminous coating on asbestos cement.
Asbestos encapsulation requires asbestos management policy
Under the Control of Asbestos Regulations, 2012 (CAR 2012) there is a 'duty to manage' asbestos, which primarily affects all non-domestic buildings, whatever the type of business. This means that use of encapsulation does require a policy of asbestos management to also be fully put into place and properly followed. Key requirements include:
Records to be kept for when scheduled maintenance or renovations take place.

Regular monitoring and inspections to ensure encapsulation is sealed and intact.

Asbestos warning notices.

Recognising the potential for future damage or disturbance.
The discovery of asbestos in the fabric of a building does not always mean that an intensive removal will be required. Encapsulation ensures that ACMs in good condition can be left in place undisturbed, and they will remain in good condition and not deteriorate over time.