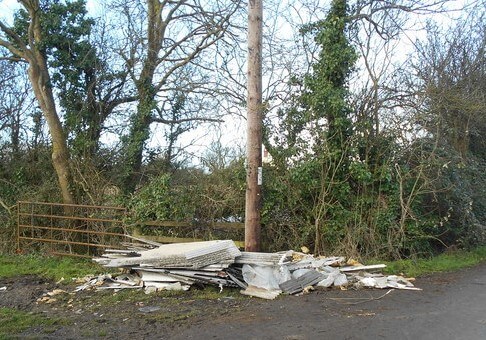 Asbestos Experienced Removals Needed For Rise in Fly-tipping Since Lockdown
During these unprecedented times, it seems there has been an even greater need for asbestos experienced removals.
Waste recycling plants were one of the first facilities to reopen in Kent during May as restrictions started to ease after weeks of lockdown due to coronavirus. However, not all public recycling centres are able to take paint or a hazardous material such as asbestos, compared to commercial Waste Transfer Stations.
Local authorities had grown increasingly concerned about the visible rise in flytipping that not only contained domestic waste but also the deadly risk of asbestos containing materials (ACMs). Kent County Council – along with dozens of local authorities across the country – reported a shocking 300 per cent rise in flytipping of illegally dumped waste on road sides and country lanes.
Asbestos experienced removals

: same disposal procedure as for Covid-19 waste
During lockdown, people who stayed at home were able to visit DIY stores and carry out house renovations. According to Sky News, an app which tracked reports of illegal flytipping found that the first week of lockdown saw, "a rise of 54 per cent nationwide compared to the previous week", soaring to 75 per cent by Easter.
Typical items fly-tipped included, black bin liners of domestic waste, and household appliances such as fridges and washing machines. There was also piles of discarded building materials, vehicle parts and tyres. More disturbing still, there was often clear evidence of hazardous waste such as, oil, chemicals and asbestos materials.
Many recycling centres may have started to accept most waste materials once more, however, items contaminated with Covid-19 need to be double bagged and stored securely for 72 hours before bringing to the site. Similar rules apply to the safe and secure disposal of asbestos waste. Under the Control of Asbestos Regulations 2012, there are strict procedures for controlled asbestos removals and disposal.
Asbestos experienced removals: safely secured at a Waste Transfer Station
It is a mandatory requirement for ACMs such as AIB (asbestos insulation board), wall panels, tiles, sprayed asbestos surfaces, and corrugated asbestos cement roofing to be double bagged, placed in a secure skip and transported by an experienced asbestos removals contractor. Asbestos materials should be taken to a Waste Transfer Station where they are safely secured before onward transportation. Alarmingly, half of Waste Transfer Stations receive asbestos in quantities greater than 500 kg from unidentified sources.
In many cases, rogue building firms and demolition contractors will ignore the potential dangers of handling asbestos waste materials. In some situations, building owners may simply not know if asbestos is present because an experienced asbestos survey has not been carried out or the information is not seen by contractors.
Responsible asbestos removals versus rise in annual flytipping
Identified or not as hazardous, asbestos waste, such as interior wall boards or roof sheeting can often be roughly ripped out by hand and hammer, broken up and thrown into the back of a van. Finally, to avoid disposal fees at waste recycling centres or transfer stations, the deadly materials are often driven just a half a mile away to be illegally dumped on a quiet country roadside or field.
In November 2019, DEFRA reported that over the previous 12 months, local authorities in England dealt with over one million (1,072,000) fly-tipping incidents, an increase of 8 per cent from the 998,000 reported in 2017/18. Despite of the many responsible asbestos removal firms, the problem of asbestos fly-tipping is unlikely to be resolved any time soon.
It has been estimated that there could be at least half a million properties – both private and public – with asbestos hidden within the fabric of the building. The Land Registry have also stated that more than half (55 per cent) of all industrial/commercial properties in the UK could still contain a white asbestos cement roof.