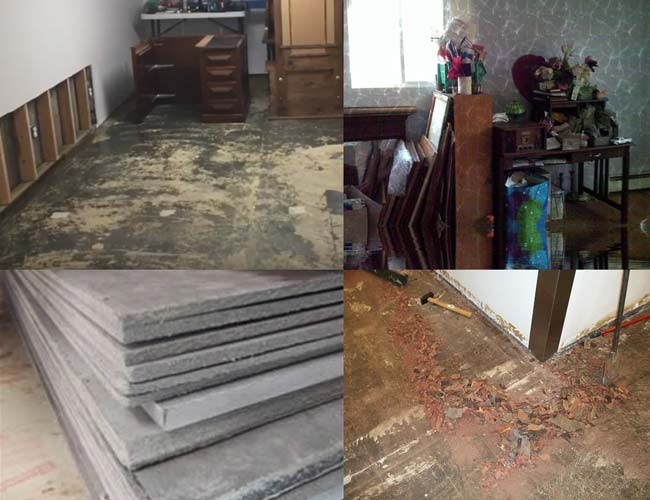 Families in some parts of the country are living under coronavirus lockdown in properties still damp and damaged by extreme flooding during February. If the house was built or renovated at any time up until 2000, there is also the possibility of exposure to asbestos containing materials (ACMs) uncovered by damage caused to the house interior.
Many owners or tenants are likely to be unaware they were living in a house already occupied with asbestos for many years. As well as trying to stay safe at home to avoid catching coronavirus, some families are now suddenly faced with yet another potentially lethal health hazard. In all cases, a controlled and safe asbestos experienced removals will be needed.
Asbestos experienced removals

for damaged flooring, walls and ceilings
The risk from exposure to damaged asbestos hidden within the fabric of a property can often be a major hazard following disasters such as fire, flooding, gale-force winds, and land subsidence. Damaged flooring, walls and ceilings may expose ACMs installed many decades earlier. Extreme flood water can damage even the strongest structures and disturb asbestos, which releases tiny, fibre dust particles as the material slowly dries.
In some towns and villages, properties have been flooded on more than one occasion during February by the three large storms. Extreme caution is always advised when cleaning or searching through debris, especially if asbestos is suspected to be present, which can never be totally discounted. Research by the Health and Safety Executive (HSE), and the professional building and demolition industry, indicate that more than 2 million domestic properties still contain hidden asbestos insulation installed at any time up until white asbestos was banned at the end of 1999.
Did you know… industrial scale asbestos mining began in Canada 1878, and its use in the UK as a building material actually started towards the end of the 19th century. Key applications included fire-retardant coatings, concrete, bricks, pipe insulation, ceiling insulation, fireproof drywall, flooring, roofing and drywall joint compound.
Asbestos experienced removals

for friable and non-friable materials
The types of insulation which can still be found in many different forms, include insulating wall board (AIB), spray textured coating, pipe lagging, cement, joint compounds, masonry fill, corrugated roofing sheets and shingles, ceiling and floor tiles. Asbestos cement fibres were also frequently made into moulded fittings for water cisterns, rainwater gutters, down pipes, pressure pipes, underground drainage and sewer pipes.
There are also categories of "non-friable" (i.e. not fragile) asbestos material, which cover items such as wall packing, "encapsulated" floor tiles and asphalt roofing products. Contrary to some information available, both friable and non-friable materials are considered equally as dangerous, and potentially, fatal hazards. The reality is that a non-friable asbestos material can "break down" and become friable due to age and exposure to sunlight. This also includes material degradation as a result of liquid absorption, including rainwater.
Asbestos experienced removals to distinguish health hazards from safe waste
It's not only those dealing with recently storm-ravaged homes who are advised to be aware of potential asbestos hazards. It has been reported that owners of flooded properties have had their repair plans put on hold as builders stopped work when the "shutdown" was announced in late March. Anyone still clearing up or cleaning away debris, and may even be considering trying to carry on with renovations by themselves, should be especially aware of the potential risk of exposure to asbestos. Identifying the deadly materials can be particularly difficult, especially if worn or damaged by water.
AIB products were produced with a hard and grey-coloured asbestos fibre cement, which is almost indistinguishable from the ordinary cement used to make a perfectly safe, low-density insulation board. Identifying materials made from asbestos fibres is almost impossible if it has been plastered and painted over many times and then damaged by water. Whether a property has been flood damaged or not, it is always strongly recommended that an experienced asbestos removals contractor be appointed to positively carry out a survey and then safely remove the damaged waste materials.