Asbestos is a hazardous naturally occurring mineral.
Unfortunately, it was widely used in various products and numerous applications due to its fire retardant properties.
This led to many buildings and houses to have asbestos present within them – this included roofing, concrete, tiles and various other materials.
Indeed, despite the fact that asbestos was recognised as a health hazard and strict regulations were put in place against its use, it's still present in various materials to this day.
Often, people living in a house, or working in premises where asbestos containing materials are present will not be aware of this.
Since asbestos is microscopic, it's not visible to the naked eye.
One will only be able to verify its presence after a test is carried out on a sample of material suspected to contain asbestos.
Due to the fact that asbestos testing companies are rather expensive, over the years the use of do-it-yourself asbestos testing kits were introduced.
Common Sources of Asbestos in the Home
Establishing where asbestos may be present in your home is not that easy.
Asbestos is not visible, and it could be present in numerous materials.
Floor tiles, sheet vinyl flooring, popcorn ceilings, wallboards, pipe cement, mastic, siding, roofing tiles and flashing, are just some examples where asbestos could be present.
What is a Home Asbestos Test Kit?
There are various kinds of asbestos testing kits.
Some are completely do-it-yourself, while others will still require you to mail the sample to a laboratory.
The main aspect here is that such a kit will shift the work of taking a sample of the potential asbestos containing material yourself.
While this is considerably less expensive than calling an asbestos testing company to carry out the work, it is both unsafe as well as somewhat less reliable.
Asbestos testing kits offer a more affordable and quicker way of trying to establish whether asbestos is present or not.
But there is always a possibility of asbestos contamination in the process.
One needs to bear in mind that exposure to asbestos is highly hazardous.
Moreover, self tests can never be as accurate as a specialised test carried out by a professional asbestos contractor.
Having said that, asbestos testing kits are still an option if you suspect that there could be asbestos in your home.
Such kits will contain the necessary equipment to take a sample of the suspected asbestos containing materials.
Some kits will also include a chemical agent which can be applied to the material, and one can read the results to establish whether asbestos is present.
In this case the entire testing process would have been carried out at home, but accuracy and safety are issues here.
What Comes in the Testing Kit?
The equipment that is included in an asbestos testing kit can vary from one kit to another.
However the following items will normally be included in every testing kit:
Disposable Gloves & Coveralls
Safety Glasses
Face Mask
Sample Bags
Cleaning Wipes
How Much Do They Usually Cost?
The price of an asbestos testing kit can vary considerably.
Some kits cost only around £20, while others can cost over £100.
Some kits will cover the laboratory fee, while others won't.
So it is important to check this before buying a kit.
If the cost of the lab analysis is not included, there will be a considerable amount you will need to pay over and above what you paid to buy the testing kit.
Are Home Asbestos Testing Kits Reliable?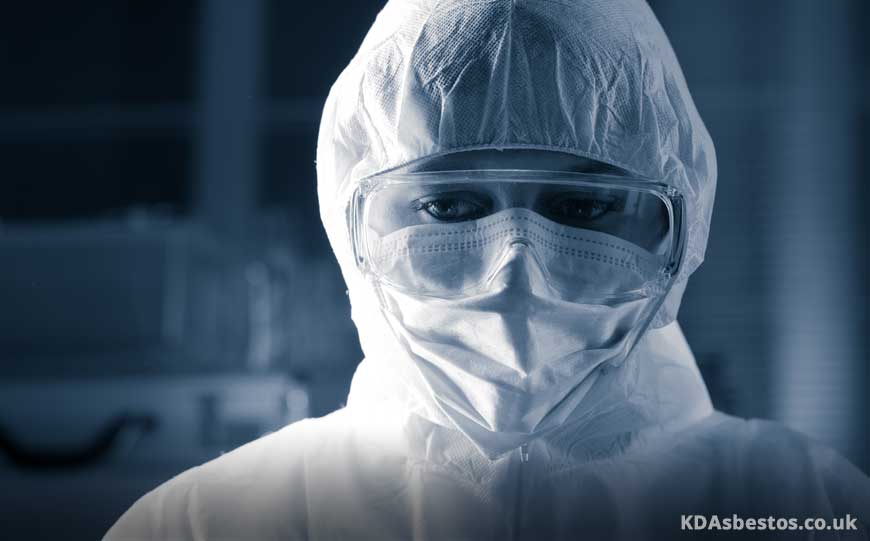 There is no denying that an asbestos testing kit will generally be more affordable.
However, it is neither safe nor reliable as if you were to hire a specialised and accredited asbestos survey company to take samples of materials and carry out the lab tests.
This lack of reliability derives from various aspects:
The equipment that is provided in such kits will not be as advanced as what an experienced professional will use.
You will not have the experience required to take the sample as a professional would.
Chances are that your lack of experience may result in not taking samples that can be considered as being a true representation of the materials that might actually contain asbestos.
On the other hand, a licensed asbestos removal surveyor will use specialised equipment to take samples, as well as be backed up with the necessary experience and knowledge of how to take samples.
Hence results will definitely be more dependable.
Are Home Asbestos Testing Kits Safe to Use?
Safety is of key importance here.
Asbestos fibres are very dangerous, and inhaling them can be fatal.
If you opt for a home asbestos testing kit you need to be fully aware of the dangers.
While collecting either solid or friable materials, there is always a chance that disturbance can release the asbestos fibres in the air, thereby making them spread and easy to inhale.
Kits will comprise disposable gloves, coveralls, safety glasses and a mask.
However despite wearing protective equipment the danger is still present, especially since the equipment provided in home kits tends to be quite basic.
Respirators equipped with HEPA filters are the safest.
Moreover, it is important to prepare the area in question properly.
Sealing off all doorways and windows is crucial to prevent contaminating other areas.
This can be done with plastic sheeting.
Another precaution is to attempt to keep any loose asbestos fibres from spreading in the air by spraying liberally with water mixed with some dishwashing detergent.
Pitfalls of Using Home Asbestos Testing Kits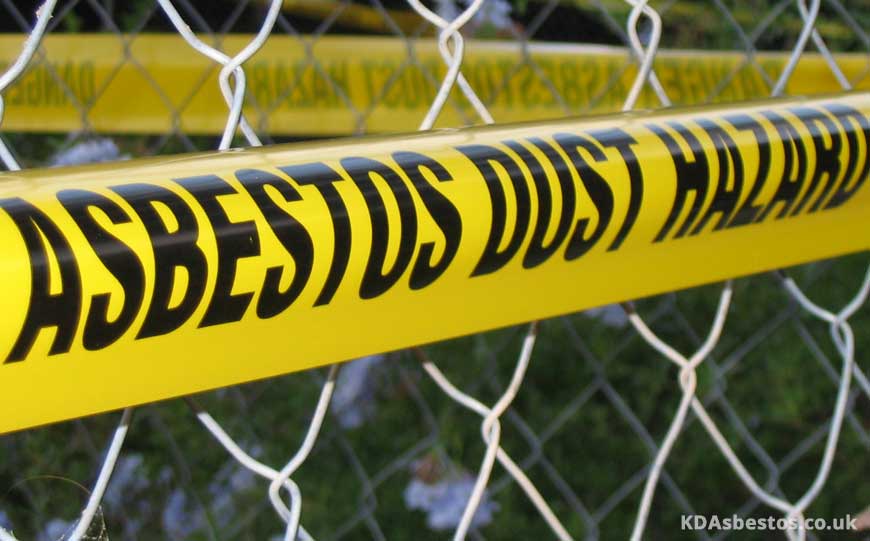 As a general rule it is always best to leave anything related to asbestos in the hands of a professional.
The use of asbestos testing kits is not recommended as there are numerous pitfalls to using them.
While trying to take samples, you could be exposed to asbestos fibres.
Health Dangers
This is very dangerous, and potentially fatal.
The health risks associated with asbestos exposure are not to be taken lightly.
In case of inhalation of such fibres, serious health problems could result after several years as asbestos fibres will remain trapped inside the body.
Even though there will be a mask provided in the kit, it will not be completely effective in case asbestos fibres become airborne.
Poor Sampling
Since asbestos fibres are microscopic, there's a good chance that they will be mixed up with several other particles in the same material that is being inspected.
So for a person who is not experienced in taking samples, identification will be practically impossible, or very hard.
Cross Contamination
All sampling points need to be properly sealed afterwards.
Otherwise, since the material would have been distrubed to take the sample, asbestos fibres could easily get released easily into the air, or end up on furniture or clothes etc.
Therefore, besides being dangerous for the person carrying out the test with the kit, it could also be dangerous for anyone else in close proximity, or anyone entering that area later.
On the other hand a professional would be able to make sure that the area is made as safe as possible both during as well as after taking the samples.
Accuracy
Accuracy is a very pertinent matter.
Since the equipment that is included in a home testing kit is generally very basic, chances are that you will not be able to take the samples as effectively as a professional would.
Professional Asbestos Testing vs Home Asbestos Testing
If you are worrying whether asbestos might be present in your property, it is important to act quickly.
While home asbestos testing might appear to be the quickest and most affordable option, there are various things that should be considered carefully.
In truth, the best option would be to get in touch with a professional, accredited company who will carry out an asbestos survey and test suspected ACMs.
Even though this may be somewhat expensive, it is surely better to make sure that the testing is carried out properly, thoroughly and safely.
Home asbestos testing can never be as reliable as a professional asbestos test, and there are also safety implications that need to be factored in too.
Reasons to Use a Professional Asbestos Testing Facility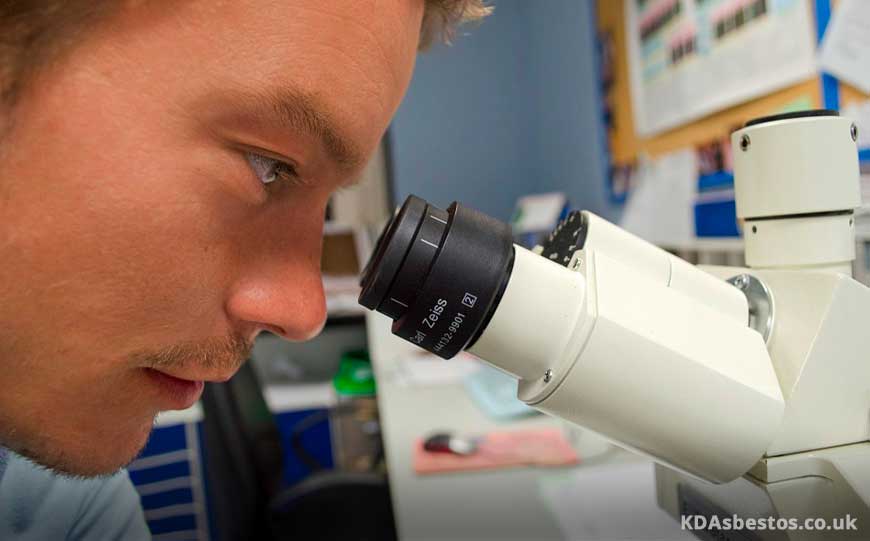 Such specialists will work methodically to identify any asbestos containing materials in the property.
All areas will be scrutinised, and thanks to their experience there is a much better chance of finding potential ACMs.
Certain materials, such as tiles and insulation will be given more attention, but other materials which you might not even have thought of considering, might also contain asbestos.
There is no denying that in such a delicate issue it is much better to have a qualified and experienced testing company do the job properly.
Not to mention more safely than you ever could if you were to use a testing kit.
A professional asbestos testing company will not only know how to carry out the tests safely, but also ensure proper handling of ACMs as well as making the site safe after the samples have been taken.
Moreover, the results obtained are bound to be more accurate than those which were taken with an asbestos testing kit.
Conclusion
All in all, even though home testing kits may appear to be an attractive option, it is highly recommended to opt for a professional asbestos testing company.
At the end of the day, you get a safer and more dependable result.
In such cases, it is better to spend more and be safe.
So contact KD Asbestos today if you suspect there's asbestos on your property.