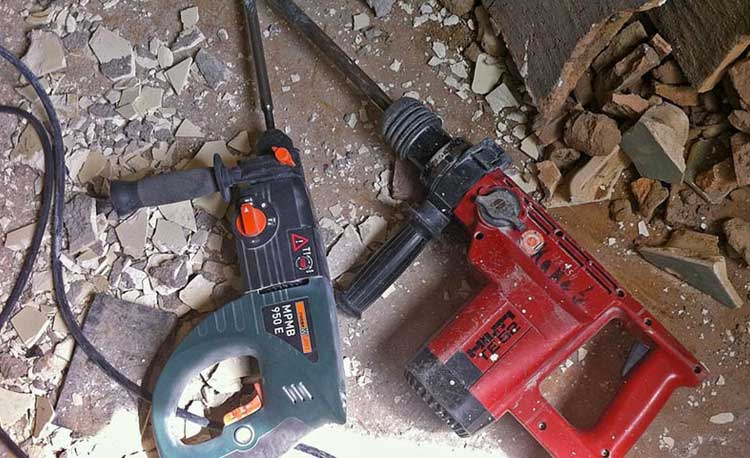 During coronavirus lockdown, millions of people on furlough have used their time to finally catch up on those long overdue DIY repairs and home decorating jobs.
Traditionally, Bank holidays tend to be the time reserved for a spot of house renovation work.
The Health & Safety Executive (HSE) and trade associations will also take the opportunity to repeat their warnings about the potential risks of accidental exposure to asbestos and the need for controlled asbestos waste removals.
DYI and Home Improvement centres, BBQ and Screwfix, recently reported a surge in sales of more than a fifth (21.6 per cent) on items such as garden plants, compost, fence panels, jet washers, and painting and decorating products.
But how likely is it that you may uncover hidden asbestos in your home when carrying out DIY repairs or preparing walls and ceilings for a lick of paint?
What are the immediate health risks, and do you need asbestos experienced removals?
Property Built Pre-2000
The government state that a quarter of the UK workforce – almost 9 million workers – are on furlough.
Clearly, not everyone furloughed at home is sandpapering or drilling into walls.
Those that are may think that if they live in a fairly modern property the warnings do not apply to them, and believe that "asbestos is all in the past!"
It is true that builders had drastically cut installing the most dangerous brown and blue asbestos fibre types from around the time the first ban was introduced in the mid 1980s.
But many continued using their stockpiled white asbestos as insulation for at least another ten years.
It was not until November 1999 that a total ban on all asbestos was introduced into the UK and formally enforced by EU directive in January 2005.
So it's important to remind all households that any property built or renovated before 2000 is liable to contain up to 30 per cent of asbestos containing materials (ACMs).
In residential premises, up to 10 per cent  of cement panel ceilings and outbuildings could contain asbestos fibres, and at least 5 per cent in other fire retardant materials.
Key Areas of Domestic Property
The major areas of a domestic property where asbestos could still be hidden include:
Ceilings & Walls
Textured Artex ceiling and wall coatings were a popular interior decoration in the 1970s.
Between 3 – 5 per cent of asbestos fibres was added as a strengthener and for easy application.
An estimated thirty per cent of homes could still contain the textured finish hidden under layers of paint.
It is also still possible that asbestos insulation board (AIB) lays hidden underneath, especially if the interior layout has been altered or renovated.
Floors
Floor tiles made with hard-bonded asbestos may also still be hidden just underneath the carpets, under layers of flooring, or foundation resurfacing.
Attic
The main interior living spaces may have been decorated and stripped out of any asbestos over the years, but it's always possible that the attic and roofing area has been overlooked.
Asbestos fibres were used in sprayed-on roof insulation, cement roofing panels, roofing felt, roof eaves, soffits, gutters, and to line cold water storage tanks and rainwater pipes.
Garage
Asbestos fibres were widely used in producing corrugated roofing to cover garage roofs but can also be found covering a variety of property extensions, outhouses, sheds and storage units.
Remove or Encapsulate After Analysis & Positive Identification
Homeowners living in properties more than 20 years old may run the risk of uncovering asbestos when carrying out repairs or decoration, which usually involves some type of drilling, scraping or sandpapering.
Asbestos materials hidden just beneath several previous coatings of paint or plaster could be accidentally disturbed.
A bigger problem may be if asbestos sheeting is found behind integral wall board constructions.
Accidentally drilling into a wall or wall cavity with concealed asbestos wallboard is unlikely to release a large quantity of airborne fibre particles, especially if the work is immediately halted.
If it's strongly suspected that a small quantity of asbestos material is briefly disturbed, a small material sample may require formal analysis.
Following a positive identification, a decision will need to be approved as to whether ACMs are to remain in place by encapsulation or a complete asbestos removals.
Distinguishing between an asbestos–containing material and almost identical modern asbestos-free materials is not easy.
After twenty or thirty years or more white asbestos fibre products are likely to be worn and discoloured, and look exactly the same as other building materials in the same condition.