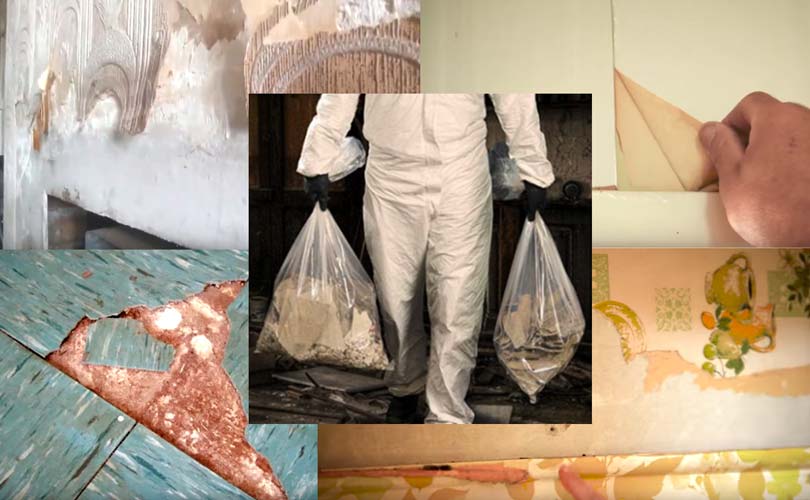 If you're planning to build an extension or a similar larger scale renovation at home or at work you may ask, "Why bother with domestic asbestos surveys?". If you live in a 'modern' house, it may seem reasonable to assume that asbestos waste removals are unlikely to be needed. Unfortunately, this is simply not the case. Any building constructed or refurbished up until 2000 should always be suspected of containing up to 30 per cent of asbestos containing materials (ACMs), according to the Health and Safety Executive.
More than 300 different types of insulation products made from asbestos fibres were commonly used in the UK during the peak period of asbestos imports. From the late 1940s and early 1950s, around 300,000 new properties were built every year, and by the 1960s and 70s, annual imports of asbestos had increased to around 160,000 tons.
Many people believe that asbestos is no longer a real threat in the home today. Especially if they know they are living in a fairly 'modern' property. But even newer homes may also be at risk as builders continued to use stockpiled asbestos products for up to five years or more, even after all asbestos was banned in 1999.
Asbestos waste removals for a wide variety of low-cost asbestos materials
A key reason why asbestos waste removals are likely to be needed is that asbestos fibres were used in the manufacture of a wide variety of low-cost insulating materials, which were installed in most types of residential or commercial property across the UK.
Millboard – was used for general heat insulation and fire protection, and can contain 35-95 per cent asbestos, with a matrix of clay and starch. The high asbestos content and low density makes the material quite easy to break, and the surface is subject to abrasion and wear.
Asbestos insulating board (AIB) – used for fire protection and general building board, contained 15-25 per cent brown amosite asbestos or a mixture of amosite and white chrysotile asbestos. Found in firebreaks, infill panels, partitions and ceilings (including ceiling tiles), roof underlay, wall linings, external canopies and porch linings. An AIB surface is usually painted or plastered but can be readily damaged with significant fibre release from sawing and drilling.
Profiled cement sheets – used in roofing, wall cladding, and permanent shuttering, and can contain 10-15 per cent asbestos. A semi-compressed flat sheet and partition board was used as infill panels, facing panels, bath panels, soffits, linings to walls and ceilings, portable buildings, fire surrounds, composite panels for fire protection, and weather boarding. An increasing quantity of fibres can be released if abraded, hand sawn or worked on with power tools. Exposed surfaces can also remove cement matrix and unbound fibre concentrate on surface and sheet laps.
Artex and similar sprayed coatings (or with a trowelled finish) – usually contained 55-85 per cent asbestos with a Portland cement binder. The surface hardness, texture and ease of fibre release varies significantly. Sprays have a high potential for fibre release if unsealed, particularly if the surface is abraded or is lifted from the underlying surface. Any released dust may then accumulate on false ceilings, wiring and ventilation systems.
While corrugated asbestos garage roofing and AIB can often make up the bulk of asbestos waste removals, an experienced asbestos survey can identify the presence of any potential types of asbestos hazard for safe and secure disposal.