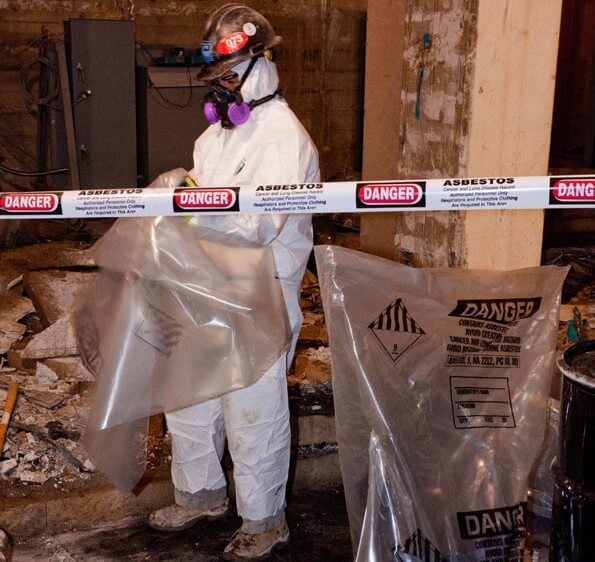 Preventing asbestos dust from becoming airborne and strictly controlling the procedure for asbestos waste removals is a statutory requirement under the Control of Asbestos Regulations 2012 (CAR 2012). Alarm is always raised among residents or passers-by over the potential health risk from any form of exposure. It is vital to always recognise the significant health risk when fibre dust has been released into the air, particles inhaled and the length of continuous exposure time.
The number of deaths from mesothelioma – the still incurable fatal cancer of the lung linings – has doubled to more than 2,500 in two decades up to 2017, according to latest available figures from the Health and Safety Executive (HSE). A similar increase in those dying from asbestos-related lung cancers was also reported, producing a total of some 5,000 fatalities from exposure to the deadly fibres.
In public or private properties, homeowners, duty holders, builders, tradesmen and asbestos removal contractors must comply with the Control of Asbestos Regulations 2012 (CAR 2012). When planning any repair or demolition work, they should ensure that asbestos surveys and asbestos removals are carried out using specialist protective equipment and dust control measures.  The length of time for the disposing of asbestos, along with the number of hours for continuous working with the removal of asbestos waste materials are also strictly determined. 
Duration of exposure during asbestos removals dependent on dust level
Risk from long or short term duration of exposure is dependent on the level of asbestos dust present. According to The Control of Asbestos at Work Regulations, the control limits for longer duration of asbestos exposure, normally expected on larger scale renovation projects, are:
1 fibres per millilitre of air averaged over a continuous period of 8 hours.

3 fibres per millilitre of air averaged over a continuous period of 4 hours.
Control limits for a shorter duration of asbestos exposure are given as:
9 fibres per millilitre of air averaged over a continuous period of 10 minutes.
For the majority of small scale, domestic DIY refurbishments, coming into contact in a short-term exposure to asbestos is generally considered low risk – unless a significantly high quantity of asbestos is suspected of being present. Uncovering extensive areas of asbestos-containing materials (ACMs) is always a high probability if a premises was constructed or renovated at any time up until 2000, after all, asbestos imports into the UK were finally banned.
Seek immediate advice from an asbestos experienced removals contractor
Drilling through a wall or sandpapering a wall surface may expose hidden asbestos. While it's unlikely that sufficient dust particles would have become airborne to pose a serious health risk, it is important to stop all work immediately and seek advice from an asbestos experienced removals contractor.
While the development of serious mesothelioma cancer is known to develop over long periods of almost continuous exposure, there is medical evidence, which indicates a link between a short-duration exposure triggering colon cancer lesions. Longer-term exposures of short duration have also been linked to increasing the risk of developing gastrointestinal tumours, depending on the fibre dust levels present.
There is always likely to be a health risk if asbestos is found in a friable (disintegrating) condition or is handled without proper personal protection (PPE) or removed incorrectly. Any form of asbestos dust exposure is potentially dangerous and it is always strongly advised that safety precautions should be observed at all times.