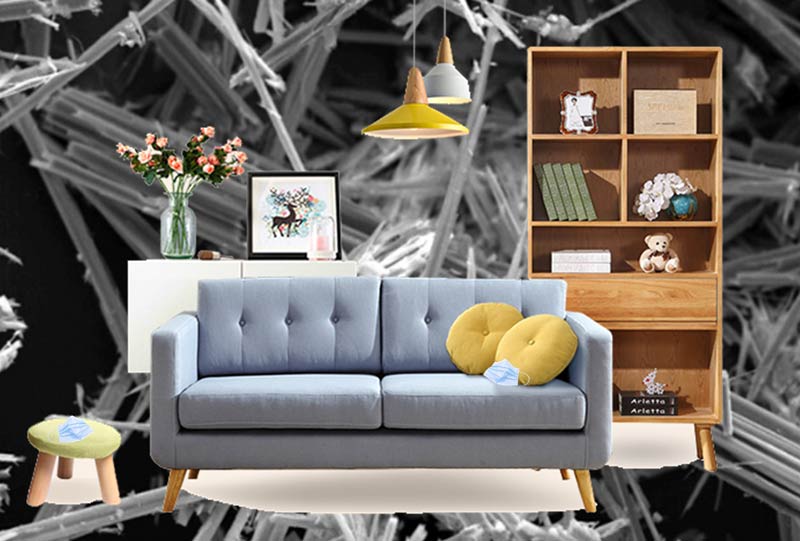 Asbestos Surveys in Council Housing and Risk of Living in Lockdown With Asbestos
Reports of a local authority renovation or demolition can often be accompanied by a substantial asbestos removals operation. While domestic or pre-demolition asbestos surveys should have been carried out prior to work starting, it can still be the case that the deadly insulating fibres are only uncovered by workmen once refurbishments are underway.
Today, it is still not that uncommon for council tenants to discover that, for decades, they were living with asbestos hidden behind cupboards, walls, ceilings, floor tiles, window sills and soffits. Covid-19 has also added another terrifying layer to the potential lethal health risk as a result of council households spending coronavirus lockdown with asbestos containing materials (ACMs).
Following the asbestos survey, family lived with ACMs throughout lockdown
One family of four in Wales has lived with asbestos in their floor tiles since lockdown was declared at the end of March. They only received a confirmation of the deadly fibres found in a sample analysis of the downstairs tiles at the start of the month. Since that time, the family have been living upstairs throughout the entire period.
If can too often be the case that without an experienced asbestos survey, the presence of ACMs may only be discovered during redecoration or if damage is accidentally caused to the ceilings or wall. It is often restated that any property built prior to 2000 should always be suspected of containing asbestos because the final ban on white asbestos imports was only introduced in the final months of 1999. However, the use of asbestos insulation in Britain's housing stock can be traced back to the start of the asbestos industries in England and Scotland during the early 1870s.
Asbestos surveys: 1.3m houses built during peak years of UK asbestos imports
There are around 29 million domestic properties in England in 2019, of which, around 1 in 7 (3.9 million) were built before 1900, according to the Valuation Office Agency. However, large-scale building of council housing across the UK only really began in the 1920s. From 1945 onwards, when an average 100,000 tons of asbestos was imported annually, around 300,000 new properties were built every year. Hundreds of building materials made with low cost asbestos fibres were installed in millions of private and council residential properties.
During the 1960s, imports of asbestos had increased to 160,000 tons per year as the proportion of council owned housing rose to 50 per cent. Between 1965 and 1970 – during the peak of UK asbestos imports (170,000 tons annually) – 1.3 million new homes were built.
After 1979, local authorities were discouraged from building council housing and the Housing Act 1980 was introduced, allowing council tenants the 'Right to Buy' their homes. Around one third of council tenants purchased their houses from the local authority on the scheme, which are likely to have changed ownership many times on the private market, and regularly renovated in the intervening years.
Asbestos surveys essential: council housing could contain up to 10 per cent hidden asbestos
As a consequence, many of the houses and flats built since the 1950s using asbestos-containing materials, could now be found in both social housing and the new, privately owned properties. Shortly after the first ban on the most toxic blue and brown asbestos types in 1985, a survey of over 2.2 million council houses conducted by the Association of Metropolitan Authorities (AMA) estimated that there could be between two and four million homes constructed of lightweight building materials containing hidden asbestos.
In recent years, the professional building industry suggest that asbestos could still be present in local authority housing and council estates by up to 10 per cent within cement panel ceilings. At least 5 per cent of asbestos fibres could also be present in fire protection materials, including boiler cupboard enclosures.