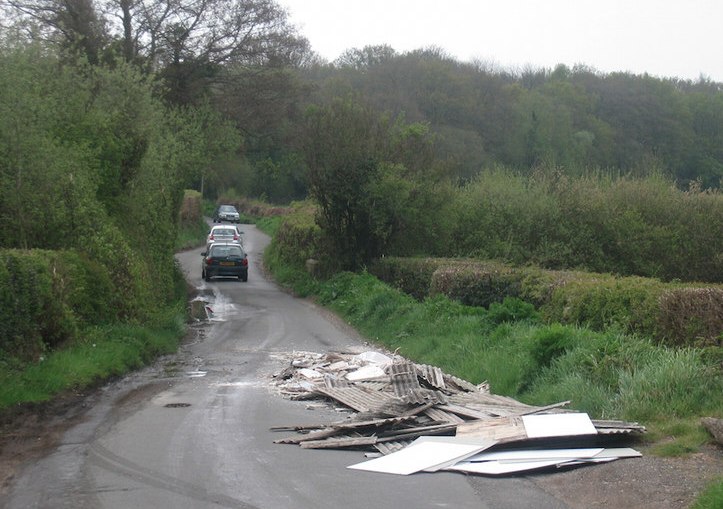 It may often seem as if asbestos waste removals and flytipping are seen by some individuals as meaning one and the same thing. Most reports of the illegal dumping of waste invariably include broken up AIB (asbestos insulation board) and corrugated asbestos garage roofing. Unfortunately, there is often only one reason, i.e. it's seen as the easier and cheaper option.
In 2017/18, as in previous years, almost half (47 per cent) of total fly-tipping typically occurred on the public highway, of which, 4 per cent – or 34,000 incidents – were of 'tipper lorry load' size or larger. Illegal flytipping, nationwide, has increased by nearly a fifth, year on year, according to The Department for Environment Food & Rural Affairs (DEFRA). One recent Freedom of Information request reveals that the illegal dumping of asbestos by itself has risen by around 14 per cent to more than 3,220 incidents in one year alone.
Real asbestos removals cost is potential health risk to the general public
The figures are truly staggering and show the real asbestos removals cost – not only to local authorities, but also the potential health risk to the general public. The latest available Government figures reveal that local authorities in England dealt with almost one million (998,000) fly-tipping incidents, 2017-18. It is estimated that fly-tipping costs between £86m-£186 million every year to investigate and clear up (The National Fly-Tipping Prevention Group).
However, penalties of up to £50,000 or 12 months imprisonment (if convicted in a Magistrates' Court) still do not deter offenders. Property owners, duty holders or building contractors appear to be more concerned to complete the job as fast as possible and to avoid paying official asbestos waste station fees. In a number of cases, homeowners can be innocently duped by rogue firms who say they will correctly dispose of asbestos waste for a "special price".
Controlled waste asbestos removals ignored – and ripped out by hammer or bare hands
Repeatedly, the Control of Asbestos Regulations 2012 (CAR 2012), which sets out the mandatory procedure for controlled waste asbestos removals is ignored. Instead, some builders or water removal contractors proceed to simply rip ACMs (asbestos containing materials) out of a property, which are then broken up by hammers or by bare hands. Invariably, insufficient PPE (personal protection equipment) or secure containment measures are in place. The waste is not securely double-bagged, labelled and secured in a locked skip, as required under the Regulations.
Instead, asbestos is removed by a vehicle to be illegally dumped just a few miles from the original site. Even if the materials are found to be in good condition, the handling causes fibre particles to become airborne with potential risks to unprotected workers and to others in close vicinity. Asbestos roof sheeting, for example, contains around 10 to 15 per cent fibre content, and the dust particles are easily released into the surrounding atmosphere.
Prior asbestos surveys not carried out
More concerning still… in a number of cases, prior asbestos surveys were not carried out, and if a survey was previously undertaken, the information is not passed on to the contractors. A tradesman may completely fail to recognise that the materials they are removing contains asbestos. 
One recent Health and Safety (HSE) survey found that just 15 per cent of tradesmen said they knew that asbestos may still be present in properties built up to 2000. More than eight in ten tradesmen did not know that white asbestos insulation continued to be used by the building industry after the 1985 ban on using brown and blue asbestos containing products.
LEARN MORE: KD Asbestos experienced asbestos waste removal services